When running a company based on a subscription billing model, it is necessary to consider the costs required to attain a single customer, and maintain your total client base. Average Revenue Per User is a report giving you a clear insight about the potential recurring income from each client that subscribes to your services. Keeping tabs on this metric will help you adjust your business tactics accurately. In other words:
Average Revenue Per User (ARPU) is a metric that explains how much monthly income you may expect from an average customer.
Obviously, it means that you want your ARPU to be as high as possible.
Understanding ARPU even further
Before we can even start preparing a plan to increase ARPU, we need to fully understand the calculation behind it:
ARPU = MRR / Number of active customers
MRR doesn't really ring a bell? No worries! My last article discusses Monthly Recurring Revenue in detail, and as such is an excellent starting point for exploration of other fundamental metrics like ARPU. Feel cordially invited to check it out!
You don't need to be a nerd to figure out that the higher the MRR generated for a lower number of users, the higher the ARPU. For instance:
If you have just 100 clients, but your MRR amounts to $10,000, you have ARPU at the level of $100.

On the other hand, you may attain the MRR of $1,000,000, but with the base of 100,000 customers, your ARPU is $10 only.
In the second scenario, you do generate much higher MRR, but think about it just for a second – is it really worth it? What's more, you cannot ignore the numbers of acquired clients – the higher the number, the more money you have to spend on your support agents, technical teams, equipment, sales processes, etc. This means that if your ARPU is low, you may have a really small profit margin out of your customers. It's rather a no-brainer – the higher the ARPU, the easier it is to maintain your clientele!
What if ARPU is declining?
It is quite common that once your business settles down after months or years of achieving a position on the market, you may notice at some point that your ARPU no longer grows that fast, or even decreases.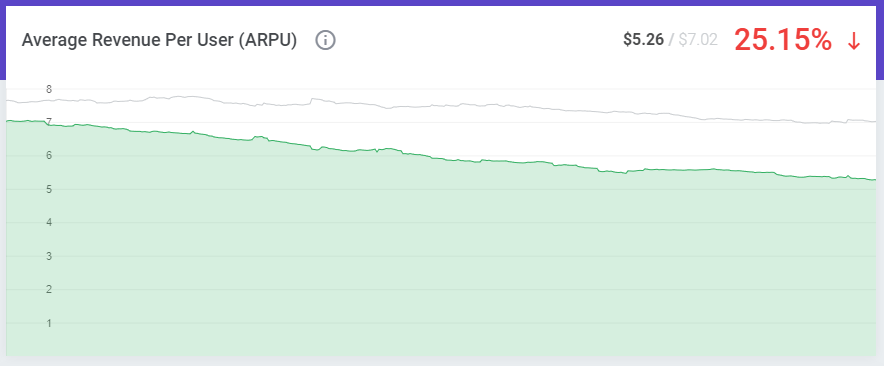 Seems that ARPU is going down? Perhaps your users are no longer interested in more costly plans, or clients that prefer cheaper options outnumber your most paying users.
A decrease of ARPU might mean that:
Your most paying users are leaving your business
Part of your customer base is switching to cheaper plans
Some of your clients are shutting down certain services
There is a big increase in the number of new customers ordering the cheapest packages
A great example is the ARPU decline in the telco industry – due to high competition, telecommunication companies tend to offer cheaper and more feature-rich plans to attract new customers. As a result, we pay less and less for the phone subscription and their ARPU decreases.
How to increase ARPU then?
This is a simple question that comes with multiple complex answers. However, as far as web hosting companies are concerned, there are a few tried and true methods that I can strongly recommend:
Offer a product that scales up – You have to give your clients a reason to upgrade their plans. Many hosting providers set up a few standard plans to choose from, but they don't really try to understand the market trends. They don't make an effort to adjust their plans to evolving customer demands, and consequently, a client sees no point in switching. Make a research, talk to your customers, and do your best to prepare an attractive offer for those who may seek more advanced options. Otherwise, the most demanding clientele will migrate to another provider.
Reasonable pricing – Don't even think to hatch a devious plot to add "extra features" for the absurd price. It's a horribly common mistake to deliver aggressive pricing, assuming that big companies have lots of money so they will pay anyway. A lucrative customer may afford to pay you more for a better plan if they need one, but still won't do it if it means tripling the current price. Losing bigger clients also indirectly contributes to depriving you of the opportunity to provide services of other sorts – a large customer often requires premium assistance, or may get back to you with special requests once in a while.
Up-selling / Cross-selling – There's no easier way for a web hosting provider to increase revenue than offering attractive bundles of products and services. In most situations, your client may not feel a burning need for another hosting account, but if an extra discount is involved, they'll be more inclined to take your offer for their little side project. All in all, the bulk of customers have one main business that requires full attention while the rest of their services are substantially less resource-consuming. With this in mind, it almost always pays off (literally) to employ discounted combinations of virtual goods.
Value added products – Nowadays, it's a conventional standard to earn an extra profit from additional services that compose well with a hosting plan. Key hosting providers simply nail this tactic – just take a look at how cleverly GoDaddy puts it into action in the ordering process! (you do not have to make it THIS complex though… ;-)) Offering such solutions as extra malware security, antivirus or backups are always a great idea, and also a valuable addition for your customers.
Premium-level service – Coming back to the large customers, what should also be noted is the fact that they often have more sophisticated expectations, and thus require a different approach than a small customer. Typically, they have a very little time, yet a large budget, so they are more than willing to spend some extra money to reduce their own workload. For example, at ModulesGarden we've introduced several extra services for more complex projects including Documentation, Maintenance or Extra QA services. Perhaps there are some supplemental features that you can offer extra to the most demanding clients?
The bottom line is – you need to take good care of your existing customers at all times. Include special promotions for them in your marketing strategies, and add extras to your offer. No less importantly, always stay in regular contact with your clientele, and make sure they are fully satisfied with your services and their price. Once your clients are well set, your ARPU will grow, and so will your company!
The below video guide is a go-to source of detailed information for anyone interested in learning more on the complex subject of Average Revenue Per User: