Once upon a time…

It has been over a year since we launched our first production ready version of MetricsCube and opened up our registration. The interest in our platform was so enormous that it came to us as a thing of utmost importance to make sure that our tool is smoothly deployed and optimized for even greater customer satisfaction. At this point I wanted to thank all our customers for their support and patience – if it wasn't for your insightful feedback, we wouldn't have been able to evolve in the way we did.
The road so far
It is so hard to believe that 12 months have passed since that very moment. We came a long way listening, deliberating on each and every one of your suggestions, assessing their feasibility and implementing them. I think that now is just a perfect time to make a little examination of conscience and summarize all the changes that we've introduced to our platform since its very first version:
Introduced support for multiple WHMCS-based brands, unified comparison and filtering tools as well as streamlined calculation process.
Significantly boosted reports loading coupled with the option to receive on a daily basis an extra email notification with brief summary of your business performance.
The long sought-for means to create subordinate user accounts and define the scope of permissions per each user individually, plus the possibility to specify a secondary email address to which all notifications related to invoices would be forwarded.
The fresh-new Retention Report empowering you to evaluate your company's performance, choose the preferred interval in which the data shall be displayed, and select a single field you currently wish to focus on, like New Clients or Active Services.
A set of new ultra-sharp reports and almost a quarter of redesigned current ones, super-boosted synchronization of big amount of data when connecting your WHMCS with MetricsCube, plus the range of supported currencies extened to over 200.
A hefty package of additional renewal reports, utterly new "Combine Reports" section with the option to create report presets, and improved intelligence of the MRR report.
Completely novel reports export utility, a bundle of new LTV, billing and subscription reports, a practical search tool and tangible performance boost.
Enhanced data security owing to the two-factor authentication method coupled with reinforced login verification process.
As you can see, we have done so much already with your support. And trust me, there is still a lot up our sleeve!
The road ahead
At this point, we are ready to take another step and make our platform as useful and comprehensive as possible in order to meet expectations of even most demanding customers. Below you will find a list of our plans for the upcoming months. A considerable part of them is already under construction so you'd better stay on the lookout!
That's right! We are finally ready to provide self-hosted system licenses that will meet even the most demanding needs of entrepreneurs who want to keep their data on their own infrastructure. This way, we want to empower you to gain physical access to your data and have a direct control over the configuration, management and security.
2. Customers & Services Segmentation
General reports that we currently provide are simply not sufficient to see clearly through your client base. Soon we will be implementing a much more effective segmentation tool that will let you, among others, list recently churned customers, view your subscribers, categorize your audience upon their activity, value, MRR or services they use. Plus, you will gain the ability to export the results of your findings into a CSV file.
Another way to preview what is going on with your business and to keep all little aspects of your company in a firm grasp. You will be only a quick glance away from learning every single important fact about the past, present, and future performance of your business. With this up-to-date solution aiding you daily, you can devote to the monitoring of your business performance as little time as possible, and yet stay perfectly aware of every single change taking place.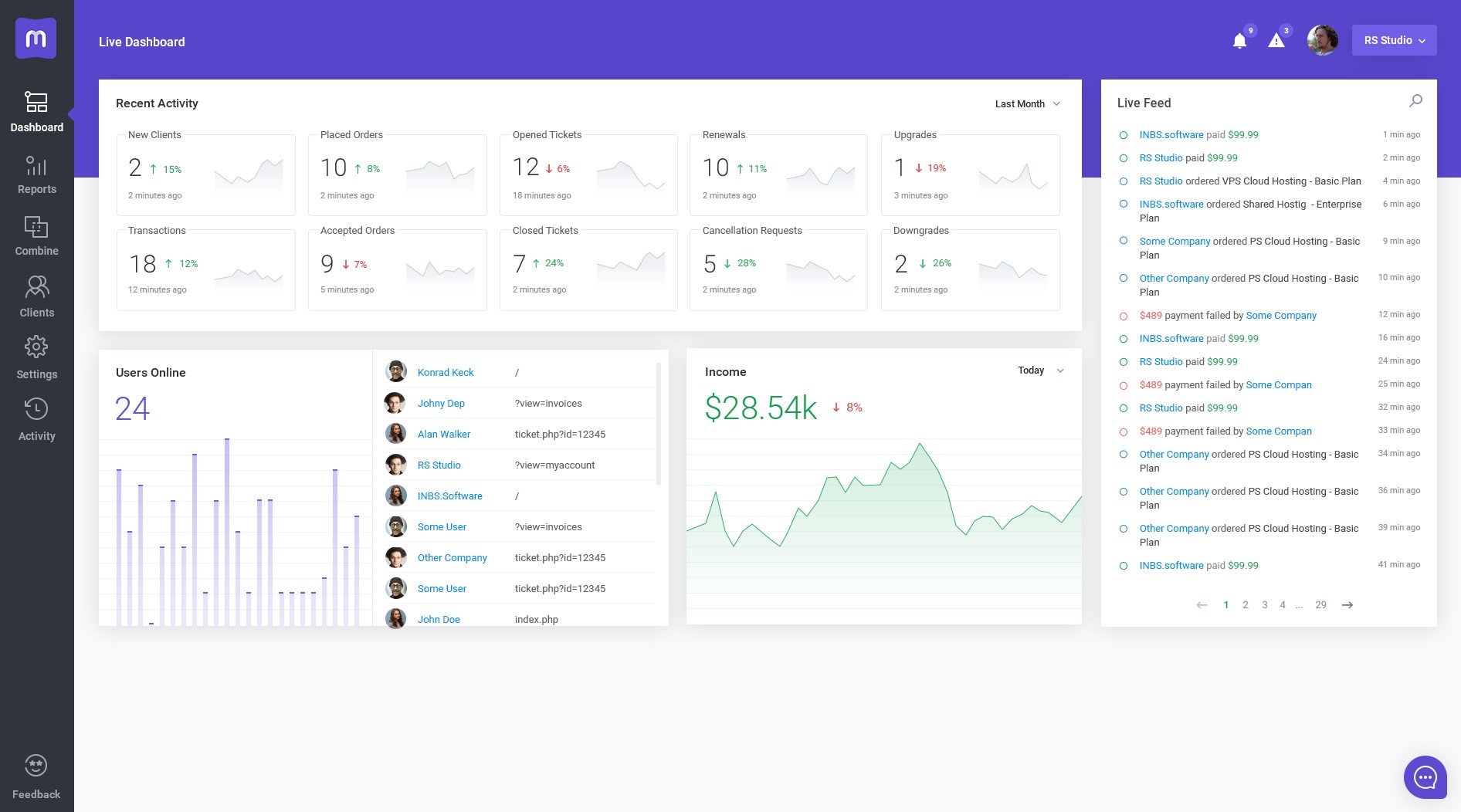 Our platform will allow you to preview detailed user profiles with data gathered scrupulously from all your brands and applications connected to MetricsCube. Additionally, we want to enable you to keep track of their activity in all these control panels as well, thanks to a live preview in your dashboard. This way, you will uncover the way in which your clients interact with your website and learn what drives their actions. Basing your decisions on all these information, you will easily maximize your business outcome.
5. cPanel Integration
Once we already have a fully featured reporting tool for WHMCS, we will certainly not rest on the laurels – that is for certain. Our next step is to integrate our platform with other prevailing control panels. We want to start with cPanel so as you can connect multiple cPanel servers and gather general statistics that will be extremely helpful to optimize your daily workflow.
Let's make a toast for future to come!
Taking this opportunity, I would like to thank everyone who has taken part in MetricsCube's development so far. Be it setting a goal or deciding the right time, nothing would be possible were it not for your massive input.
Right now, business intelligence is becoming ever more powerful weapon on the web hosting market. As things stand now, you may rest assured that the bundle of plans I had the pleasure of presenting to you today is just a forecast of what is to come in the following weeks. But, so as not to lose the element of surprise and spoil the fun of first-hand exploration for you, that is about as much early details as I can share for now.
As soon as the MetricsCube update becomes officially available, a follow-up article will be released so keep your eyes wide open!