When running a dynamic enterprise, you need every bit of assurance that the data analytics tool you rely on for your business's success provides the most in-depth view and keeps up with the pace at the same time. In MetricsCube we do not rest on the laurels when it comes to making our software perfectly adjusted to the demanding realms of entrepreneurship. Quite the contrary, our minds abound in endless ideas on how to make your experience with our solution even much greater than ever before.
In turning vision into reality, it is the customer feedback that proves to be most invaluable. And today we invite you to follow us on the insightful interview we recently conducted with Max Korzhanoff, the founder of GARMTECH, that exposes the absolute power of data analysis.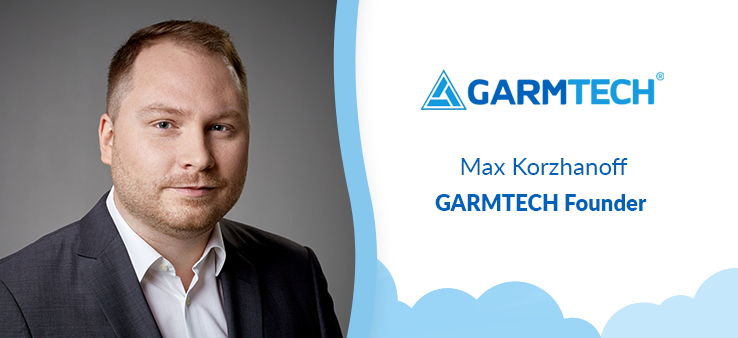 Taking a step out of the WHMCS borders
GARMTECH is one of the leading web hosting enterprises operating on the Baltic ISP market. Throughout the years of top-notch service quality, the company has gained the trust of multiple enterprises as well as individuals seeking not only web hosting services, personal web-pages, VPS and dedicated servers rent but also commercial projects such as B2B and B2C systems.
The people behind GARMTECH have been relying on the WHMCS system as their business management platform for a time long enough to employ its built-in reporting tools into everyday data analysis. However, they very soon noticed its certain limitations:
"Our marketing team needed more data on the current customers, retention rates as well as subscription churn and MRR."
As a matter of fact, the necessity for plugging the information gap with flexible reports providing a profound business insight was the very brains behind bringing MetricsCube on board. Initially, GARMTECH had certain reservations about the tool that was described as offering such an advanced array of reporting utilities. Luckily, as Max points out, we easily managed to get the best of both worlds by combining complexity of foresight with plainness and simplicity of use.
"MetricsCube was our first data analysis solution. We found it very easy to set up and the navigation through the vast sets of high-quality reports has been effortless from the very beginning as well."
The bottom line
One thing is for sure – there is no better way to evaluate the effectiveness of your product than through a first-hand account of people involved with it on a daily basis. Following that thought, we asked Max in what ways MetricsCube relieves GARMTECH in their everyday business analysis.
"MetricsCube has helped us to better understand what happens inside our business. Monitoring new products was one of the most important things we were looking for since knowing the average revenue per service helps us see how well our new services perform."
Indeed, featured with several dozen powerful reports monitoring your business growth, MetricsCube proves to be an ever-helpful tool in analyzing and understanding all the ins and outs of your company. By arming themselves with MetricsCube, GARMTECH marketing team anchored the adoption of LTV, New Services Income Ratio, Service Lifetime Value, Unpaid Invoices Value and other customer-oriented reports in their daily decision-making process.
"Aside from the features provided in reports, it all comes down to the amazing filtering allowing us to spend less time searching the ways to get the data we need."
Without any doubts, figuring out how and where to look for information is not the kind of task companies should devote much time to. As Max stated, his company was most impressed by the smooth filters applied to neatly processed data that empowered them to make wise, data-driven decisions on the spot and succeed at all levels.
A few final words
All good things must come to an end and so did our virtual chat with Max. Along with that, the moment to ask the decisive question arrived – based on his own experience with MetricsCube, would he recommend it to other company owners?
"For our marketing team all the reports regarding new customers are of great importance and when combined with smooth filtering proved MetricsCube to be a remarkable discovery for us. We would highly recommend it to all the established companies – the product is great and, in our case, worked out way better than WHMCS built-in solutions."
We are ever so grateful to Max for this huge vote of confidence and such amazing insights. Hearing these encouraging words have further motivated us to follow the path of continuous hard work in order to make the future ahead of us driven by intelligent data processing.
Have you tried our solution yourself yet? Feel invited to go for a 14-day free trial and achieve new heights in business analytics with MetricsCube!