It will surely not be a risk to state that in modern world data is all around us, and every little thing we do continually adds on to the heaps of information. Without a doubt, no one is more aware of such state of affairs than each and every entrepreneur facing the amount of hard work that goes into gathering and analyzing business data on a daily basis.
Recently we had undeniable pleasure to conduct a brief interview with Brad Morrison, the Founder of GoWP – a worldwide leader in WordPress maintenance and support that thrived on the grounds of prior web agency experience. Now, providing complete outsourcing services that keep WordPress-based sites running smoothly, GoWP allows its customers to focus on the stable growth of their own companies.
But that's where the question arises – who will take care of GoWP's peaceful and well-supported development? Follow us on another article in the Case Study series to find the answer to this nagging question in a few moments!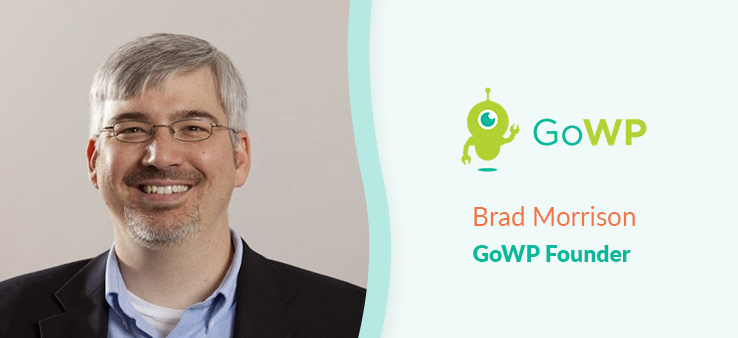 In search of the impeccable tool
Employing a subscription-based business model means relying on recurring revenue and constantly ensuring that your customers are pleased and the profit margins are strong. What we wanted the most was to enable such company owners to extract raw data from their control panels like WHMCS and turn it into meaningful pieces of information without having to undertake any complicated analysis operations.
To gain some background on how GoWP came to cross paths with our tool in the first place, we asked Brad about the software he had the chance to interact with prior to MetricsCube:
"Our company used another popular reporting tool but there wasn't a native integration with WHMCS which we based our business management on – the third party integration did not work well so we couldn't rely on the metrics."
Depending on the WHMCS system as the primary web hosting management and billing platform surely generates a great deal of data useful in the daily decision-making process. However, the mere possession of the information is nowhere near enough. As Brad explains, there is more to company's prosperity than meets the eye:
"We needed something that would pull data from WHMCS and there wasn't an existing solution that could do this well."
The problem that Brad (and numerous other business owners before him) pointed out is also the reason that eventually drove MetricsCube into very existence. With our tool entrepreneurs can now identify and verify potential strategies as well as test the feasibility of the most favored solutions – all that based on relevant, accurate and reliable WHMCS data. After all, even the most comprehensive data bases will be of no use if not thoroughly analyzed, don't you think?
MetricsCube's arrival
After being on a hunt for a perfect tool for some time, GoWP Founder came across MetricsCube, and luckily for both sides – stayed there for longer. We asked Brad if anything has changed since his company decided to anchor our software in their everyday data management.
"We didn't have a clean way to see key metrics like MRR, LTV, and Churn Rate before. Now, with MetricsCube, we can see those with little effort."
Indeed, thanks to the impressive set of over 70 flexible reports MetricsCube is featured with, the delivery of exceptionally deep and accurate analysis is guaranteed. But, as Brad pointed out, it is the instant and effortless access to the neatly processed data through smooth and intuitive filtering that made MetricsCube just the perfect choice for his business.
We are acutely aware that each company is unique when it comes to the established goals and the finest means of achieving them. Therefore, instead of forcing anyone to handle our software this way or the other, we aimed to give MetricsCube users the possibility to explore the measurement methods that work for them the best.
GoWP also found their perfect set of features:
"Since we have customers with multiple subscriptions, I like that MetricsCube breaks down retention metrics by revenue, subscription and customers. This setup aligns well with our business and helps to reveal trends that we would have missed without it."
The final verdict
As Brad states, after bringing MetricsCube into action, he is now able to navigate through its vast sets of high-quality reports more effortlessly than he would have ever imagined. We were curious to know if this fact had anything to do with Brad's answer to our final question: would he recommend MetricsCube to other companies?
"Absolutely! It is critical to "know your numbers" and MetricsCube makes it so easy."
Such passionate reply only fires us up for the future ahead. Brad was in fact yet another person to confirm our successful combination of the advanced business insight with intuitiveness and simplicity of use. And since that was always our primary goal when creating MetricsCube, we are endlessly pleased to hear those kind words of approval. However, as much as we appreciate this token of loyalty, we never intend to simply rest on our laurels as there are plenty of improvements and novel features yet to be implemented in MetricsCube.
Not a part of the MetricsCube family yet? Feel invited to power our ranks! Explore all the features our tool has to offer and let it help your company climb to the next levels of success!