Whether you are an active user of MetricsCube already or are still yet to join us, you will certainly find our newly launched update worth your while. In the following release notes we will be showcasing some of the most vital additions as well as improvements that will hopefully make your experience with our tool even much greater than ever before. Let's take a tour, shall we?
Hefty Package of Renewal Reports
Renewal metrics can mean many different things to different people. In most cases however, the higher the score, the stronger the indication that you have sticky customers who lead to more predictable revenue and lower selling cost.
In MetricsCube we approach the subject of renewal from three slightly different angles, that is three types of assets you can study and compare:
Revenue Renewal – this report will surely interest you the most as it gives a clear indication of the income gained from all your renewed services
Revenue Renewal Rate – discover how much money you earned from all services renewed in the last 30 days in comparison to the income of all services altogether
Subscription Renewal – instantly view the total number of all renewed subscriptions
Subscription Renewal Rate – monitor the ratio of all subscriptions renewed during the past 30 days to the total number of subscriptions
Customer Renewal – check how many customers decided to benefit from your services further on
Customer Renewal Rate – trace the percentage of customers who remained active throughout the past 30 days in relation to all customers altogether

While the most desirable scenario is to obviously keep the renewal rates at 100% all the time, in reality this may be much harder to achieve. But once you identify the weak gear in your machinery, you will hopefully be able to find for it a suiting, more effective replacement in no time.
Utterly New "Combine Reports" Section
We put extra effort to make sure that in MetricsCube you can access even the most detailed information on your MRR, LTV and other vital metrics in a matter of seconds. But have you ever wondered how many additional observations about your business could be made if you were to combine two or more reports into one? Well, you now have a chance to finally find out!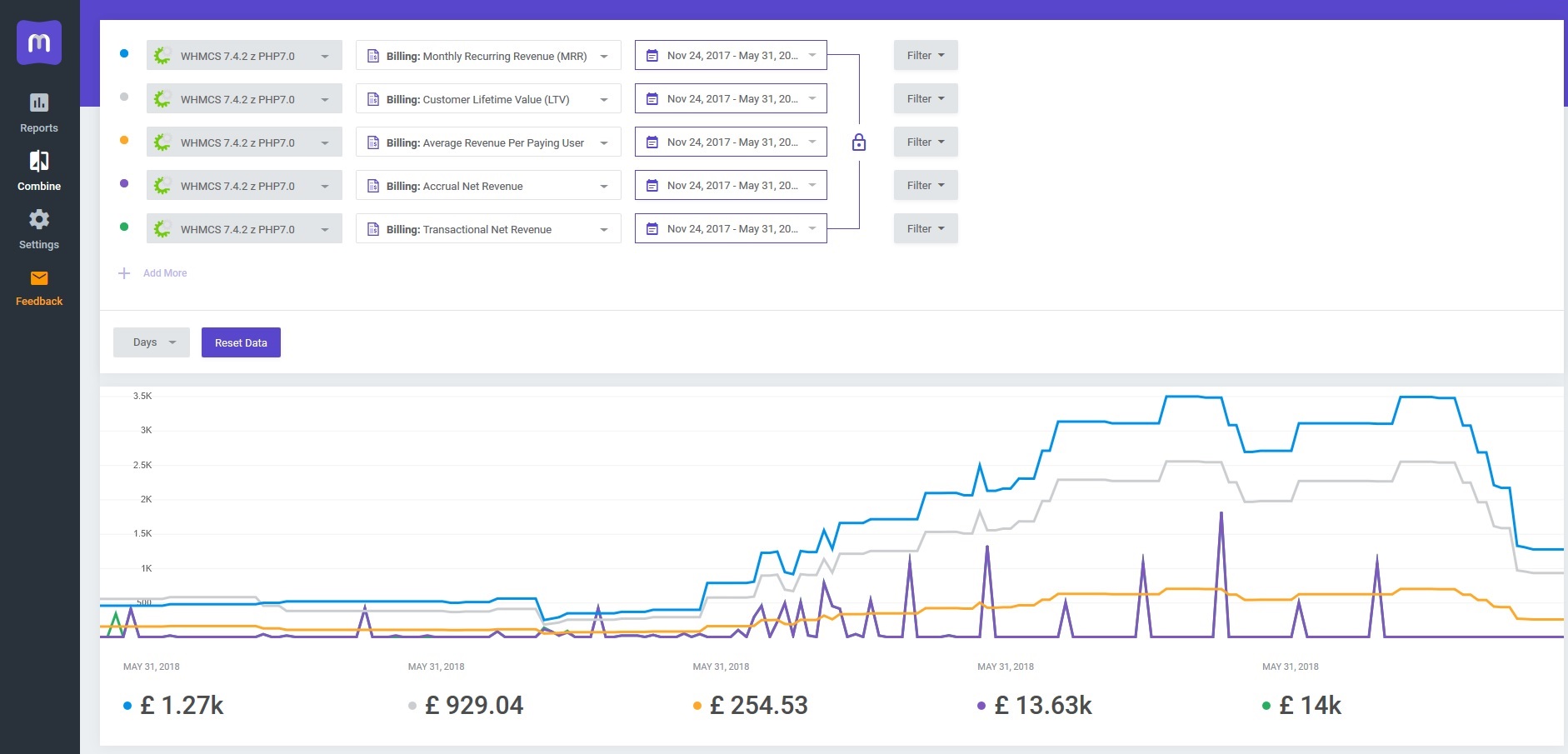 See how your MRR and ARPU values might be interconnected, view the ratio of Active Subscribers to Active Paid Subscribers, or estimate the average number of services per client by combing Total Clients report with Active Services.
The number of possible combinations offered by this novel tool is enormous since you are enabled to match the reports of almost each type, while also applying extra filters and setting the desired time frames at the same time. Go ahead and experiment to uncover the facts about your company you never knew even existed!
Improved Intelligence of MRR Report
Monthly Recurring Revenue (MRR) is one of the most meaningful metrics any subscription-dependent business can measure. That is why always try working out new methods to make its values as accurate and complete as possible.

Recently we also performed a few of such tweak-ups, and from now on the MRR report will be calculated on the basis of not only paid invoices, but also those that are yet to be settled.
More specifically, all invoices that remain incomplete for 14 days from the due date will be considered as paid, and the service renewal charge itself included in the calculation of recurring revenue for the given month.
However, if the invoice stays unpaid for longer than 14 days, the service will be considered as inactive, counting from its payment due date. Thus, it will be excluded from the calculation of MRR for this month.
Numerous Other Optimizations
No MetricsCube update can do without what clients crave the most and frequently give feedback us on. You've guessed it right – improved performance and faster reports generation. Owing to massive architecture redesign and plentiful code adjustments, MetricsCube is bound to surprise you with a considerably sped up loading of reports in two sections particularly – "Billing", and the most recently added "Subscriptions".

Given the amount of work and time put by our team into further enhancing MetricsCube, we strongly hope you will enjoy the exploration of all newly offered utilities. And of course, that they will serve you not only as an extra gadget that is good to have around, but as a viable means to making data-driven decision about your company's growth.
Still not a part of the MetricsCube community? Click that purple button below and launch the two-week testing period right away!
As always, if you have any other ideas on how we can make MetricsCube even better, we will certainly love to hear all of them!