Those of who you have been closely following our work during the past few months might have a general idea of what we have in store for you today. But no matter if you may count yourself among the active MetricsCube users already or are still yet to join us, you will definitely find our newly launched update worth your while.
Without further ado, let us take you on a detailed tour through the most vital additions and modifications aimed at making your experience with our platform reach a whole new level of comfort. Shall we?
Live Dashboard finally here!
Pre-announced in the latest release notes, the process of crafting and perfecting the new central piece of our tool has just reached the finish line. Real-time reporting on the most important metrics and instant access into what is happening with your business convey only the general idea of what Live Dashboard really is, what it consists of and in how many ways it may benefit you in the long run.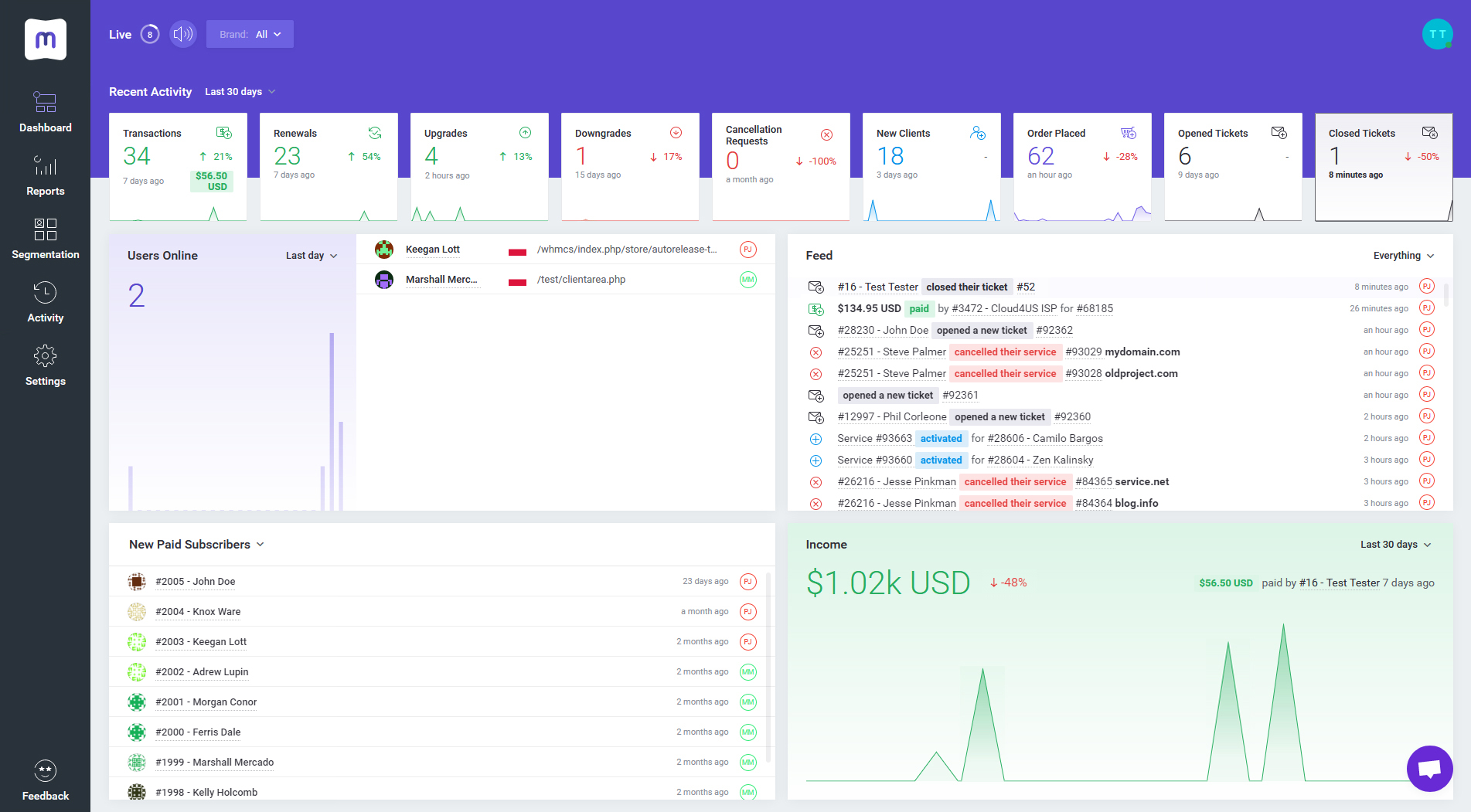 Only after taking your first look at this utterly modernized panel, you will instantly notice that it is made up of several smaller bricks – each responsible for something entirely different yet equally valuable.
Feed – displaying all sorts of actions performed by your clientele, such as settling payments, opening new support tickets, registering new accounts, and many more. No matter what type of activity took place, you will momentarily view the application it happened within, the user responsible for it as well as the time when the change happened. More – thanks to the vast set of filters the widget is equipped with, you will be enabled to categorize the results so as to view only those that are of the utmost importance to you at the moment.
Users Online – right here you will immediately see not only the number and list of users that are online at the moment but also a bar diagram showing the number of clients that have logged in to their accounts within the latest 24 hours. Were that not enough, owing to the User Tracking feature, you will also be capable of following every move they make on your website, with suitable links to the place they are currently visiting displayed on the list.
Recent Activity – comprising of several smaller units, this particular widget displays informative line charts next to numerical and percentage values of variations taking place in specific sections of your business within a chosen period of time. These include, e.g., placed orders, newly acquired clients, open and closed tickets or submitted cancellation requests.
Income – furnished with a drop-down menu for selecting the preferred time period and a record of most recent transactions, it will bring you up to speed with the total amount of your earnings and their change within time, shown both percentage-wise and on a line diagram as well.
Other insightful reports – to let you supervise your business from every angle possible, your Live Dashboard will also include several more dynamically loaded data sections:

New Users
New Services
New Domains
New Paid Subscribers
New Paid Subscriptions
Renewed Subscriptions
Churned Subscriptions
With such a comprehensively geared command center, monitoring even the tiniest aspect of your company will not require of you any spare effort whatsoever. Just sit down comfortably and watch it evolves!
Excited already? Hang on in there, we have still some other cards up our sleeves!
Multiple tweaks and performance-related adjustments
Interested in some other new possibilities MetricsCube can now offer you? Be sure to run through the below convenient list:
For your convenience, the platform is now furnished with links redirecting you straight to your WHMCS. This way you will be immediately navigated to the appropriate sections concerning your clients, services or domains.
To enhance the clarity of the plenty of data MetricsCube endows you with, in some part of the platform we have transformed the names of your connected WHMCS systems into icons, which, along with a direct URL address to the administration panel, can be now freely defined in a special section created for this purpose, to be found in "My Applications" located in the "Settings" tab.
Lastly, of equal importance is also the fact that we have significantly boosted the performance of the entire platform and slightly modified the menu layout so that the navigation through the system could be an even more pleasant experience.
MetricsCube Connector with a new feature pack

As a quality bonus to this landmark release, MetricsCube Connector For WHMCS powered by our fellows at ModulesGarden has received a solid 2.2.3 update!
Apart from the faultless integration with Live Dashboard, this new version delivers also a whole range of notable changes, most important being support for the latest WHMCS 8.1, as well as the automated logs rotation that introduces file size limits for the storage of logs. The optimized server load is no doubt another advantage to look forward to.
Wondering now how to embrace all of the brand-new faculties in MetricsCube? With minimum effort, really – log in to your account and check out every new feature with closer care as the update is already live!
And if you are still yet to discover how our reporting platform would fit your company, feel invited to find it out during a free 14-day trial!