Most of you would probably agree that there is little point (if any at all) in setting a goal – regardless if it concerns your personal or business life – when you will never know whether you turned out successful or not. More, what sense does a decision-making process even make when it is not based on sound knowledge stemming from neatly processed facts?
A year and a half ago, when we launched MetricsCube, we aspired to fulfill the demand of enterprises from all over the globe for an intelligent data processing tool that would let them inspect all business assets thoroughly enough to keep reaching ever new heights of success. Little did we know back then how much of a heated interest the platform would trigger in so short period and, most importantly, that the number of real business breakthroughs reached thanks to its guidance would be so considerable and continuously expanding.
That being said, we feel profoundly honored to invite you to follow another article in our Case Study series dedicated to entrepreneurs who eventually saw clearly through the heaps of their business data with the undeniable power of data analysis. This time we had the pleasure to have a small chat with Ryan Gray, CEO at NameHero – a rapidly growing American provider of high-speed, reliable, and scalable web hosting services to individuals and businesses of all sizes.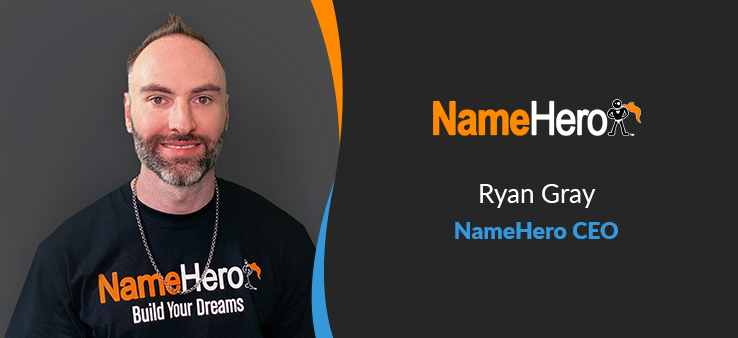 Will the story prove the fundamentality of data processing to company owners? Let's find out!
From the struggles before…
It's all in the data, they say. And for a good reason.
Data truly is an undeniable competitive advantage. But only when carefully explored, analyzed and examined it can turn into invaluable help in figuring out what business strategy is the most appropriate for the company to achieve their goals.
Ryan knew that precisely from the direct experience with setting up his company's budget for the upcoming months which, obviously, could not be based on mere estimates. In-depth analysis with actual real-life numbers was required and basing his company on the WHMCS system was the very point of departure:
"WHMCS is a fantastic piece of software and makes my life much easier, I love it. However, reporting is quite limited there and shows too broad a view of the financial health of a company."
However, as it turned out later, the journey was bound to be a marathon rather than a sprint, as the attempt to perform analysis on his own was no piece of cake for Ryan. At some point, he found himself left with multiple complex spreadsheets trying to find his own formula for an accurate assessment of his company's true performance:
"I began supplementing these reports with my custom Excel spreadsheets where I could break down return on investment per product/service and different customer segments. However, after spending nearly six hours on a single report, I started searching out ways to automate the process to not only save me time but to be able to provide a "live look" at the overall health of our organization."
Wasting huge amounts of time on the manual nature of his method was only the first major obstacle Ryan encountered. What seemed to pose an even more serious issue was the inability of these hand-made evaluations to stay true to the real-time picture of their business health. As NameHero evolved and gathered steam, there was increasingly more data to monitor and interpret.
Fortunately for both sides, soon Ryan came to cross paths with MetricsCube – and it could not be more of a sound choice! While measuring key performance indicators is certainly the major part of the tool's job, we characterize it in a more human light: MetricsCube is the sense standing behind bare numbers.
…toward quantifiable results afterward.
Curious about what exactly changed for NameHero after they have entrusted their business analysis to MetricsCube, we turned to Ryan for some extra unravelment. And what we heard in response went beyond our wildest expectations!
"MetricsCube has been an overall game-changer for us.
Immediately after gaining access and allowing our data to compile, we were able to see many of our key performance indicators (KPIs) such as MRR, customer lifetime value, ARPU, new monthly recurring revenue, churn rate, and many more in one centralized dashboard with visual graphics where we could drill down and easily compare previous periods. Now we're able to quickly access the data, make our decisions, and move forward without the sleepless nights."
It goes without saying that data is useless unless it helps you draw conclusions and make fast, calculated decisions. By the virtue of several dozen insightful reports with clear charts, real-time statistics, and a smart segmentation tool, exploring carefully chosen details about your company's performance and revealing its actual condition comes as second nature to MetricsCube.
The grand finale
The thing Ryan found in MetricsCube groundbreaking as well, was the ability to quickly access an accurate picture of his business without having to juggle the data back and forth between multiple spreadsheets. As a matter of fact, he was finally able to throw most of them away and forget about their existence once and for all. Consequently, being geared with such powerful and detailed insights, the only option NameHero had, was to grow and flourish steadily ever after:
"Having the ability to breakdown things like tickets per product/service, revenue per domain, late fee income, etc. gives us the power to maximize our marketing budget for optimal ROIs where we can fully optimize our acquisition cost and continue growing our organization with ease."
And what we heard next, was indeed a huge vote of confidence, the biggest one a company could ever ask for:
"Features and application aside, the deciding factor for MetricsCube, was the team behind it. I know they do things right. They're an organization that takes customer feedback seriously and strives with innovation. Since joining MetricsCube, I have already been impressed with the on-going development and look forward to a long-term relationship!"
What we can say, Ryan – so do we!
It is our primary purpose to help ever bigger number of companies to discover all the hidden insights from raw data. Who knows, maybe yours is the next one to be relieved in keeping track of all key business metrics? Have a try at business analytics with a 14-day free trial of our tool and become the very next satisfied member of the MetricsCube family!