As there is a ghost of a chance that today's exciting release of MetricsCube may not come entirely as a surprise, its scope and significance certainly will. Some time ago, in our anniversary Blog article, we shed a bit of light on the upcoming, revolutionary changes already. What about diving into further details of what we have already turned into reality and what aces there are still up our sleeve?
Empty promises? No, thanks!
Throughout the past year, since the moment of MetricsCube official launch, our entire team has been invariably joining their efforts to push forward ever new improvements and bring a touch of refreshment into your favorite WHMCS business analysis software upon each following update. But this time is different. In terms of how big a step did we take, we are not afraid to state that today we are ushering into a whole new era of data analysis!
What is lurking from behind this bold statement?
First off, we are making the previously announced Segmentation Utility all yours to command, thus expanding the range of possibilities to categorize your customers and services based on a whole variety of factors. We are also setting the scene for the official implementation of Live Dashboard – it is only a matter of the upcoming few months that you will be furnished with this super-quick and all-embracing way to monitor every tiniest aspect of your business from a single place.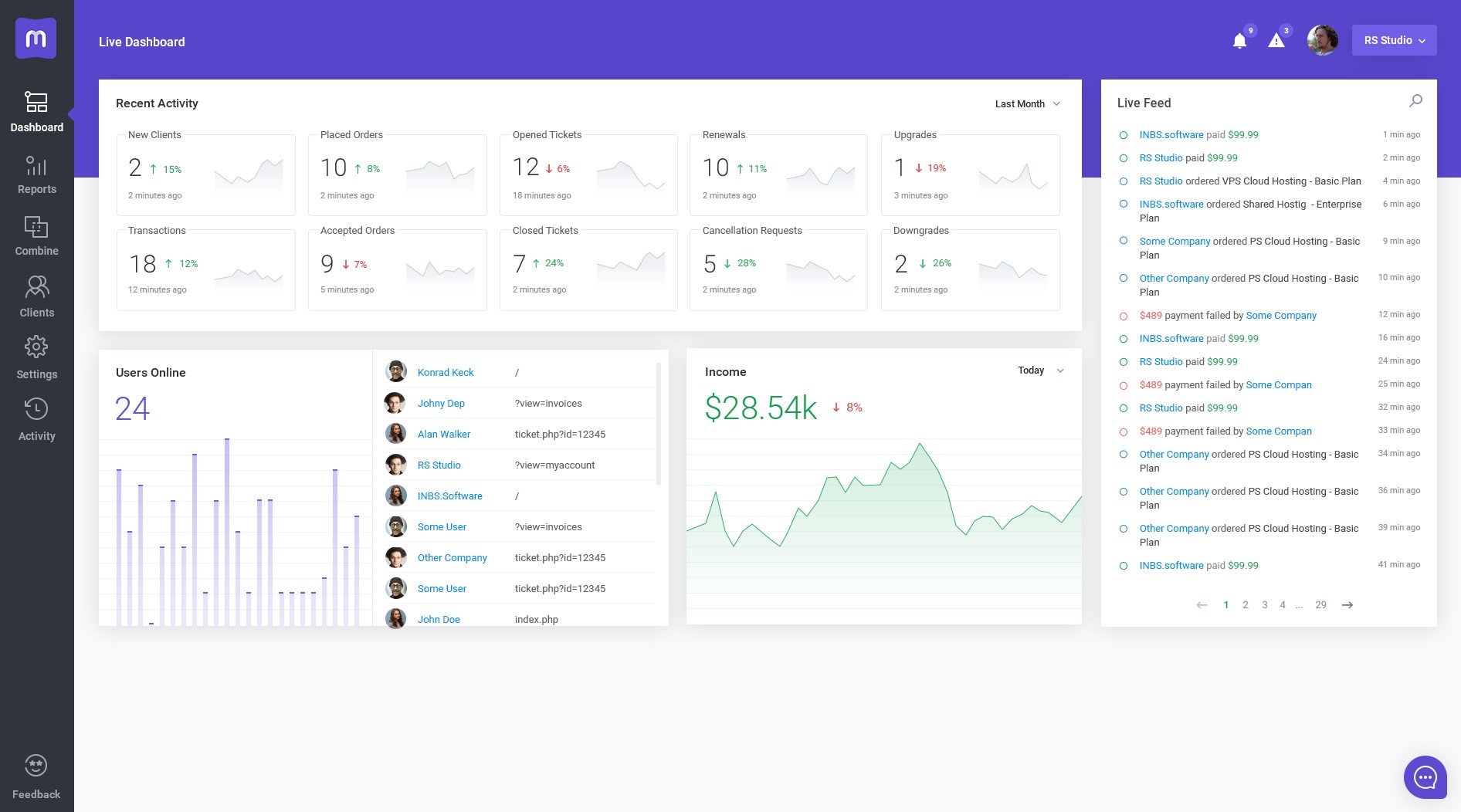 Apart from that, there is another, no less prominent functionality that we are currently working on, namely User Activity Tracking. Want to get inside of your customers' minds and find out what presides over their behavior and interaction with your website? We will make that happen sooner than you can possibly imagine!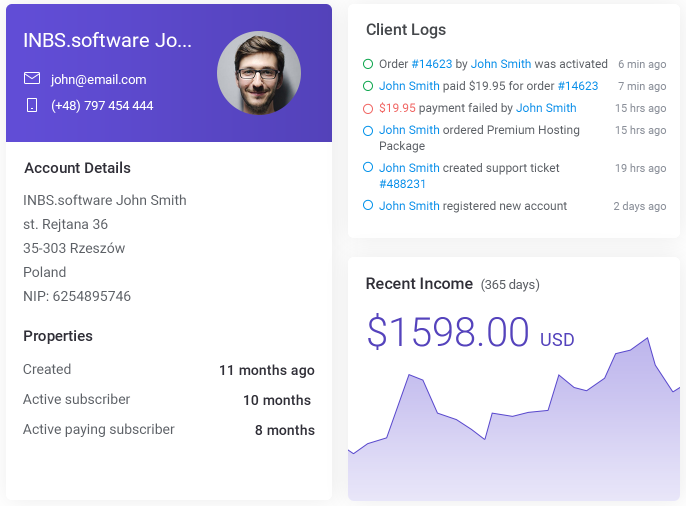 Lastly, we are currently putting the final touches to the new set of premium reports including MRR Breakdown, Retention, and Product Breakdown. It is only a question of time that they join the ranks of the present-day, already impressive ensemble of 72 reports with clear charts and real-time statistics aiding your daily decision-making process.
But enough of this bragging. Let me now invite you to string along in the in-depth exploration of today's milestone release, shall we?
Customers & Services Segmentation
The mystery of a successful marketing strategy is to operate under the crucial premise that each and every one of your clients is different, unique in terms of their interests, needs, habits, and characteristics. Dividing your customer base into smaller groups of individuals that are similar in specific ways is vital to understanding what they truly desire and, consequently, replacing the one-size-fits-all approach into personalized tactics, providing exceptional customer experience.
Equipped with our brand-new Customer Segmentation tool you will be enabled to effectively categorize your clients based on dozens of aspects and receive your results presented in crystal clear tables. You will be also free to look through all your users at once thanks to the first, default report making all their essential features such as status, number of active services, MRR or income easily approachable. Then, by selecting from a set of the remaining ten different reports and applying various filters on them, you will be able to verify clients with at least one active service, keep track of your new users, define the recently churned ones, and many more, depending on your current requisites.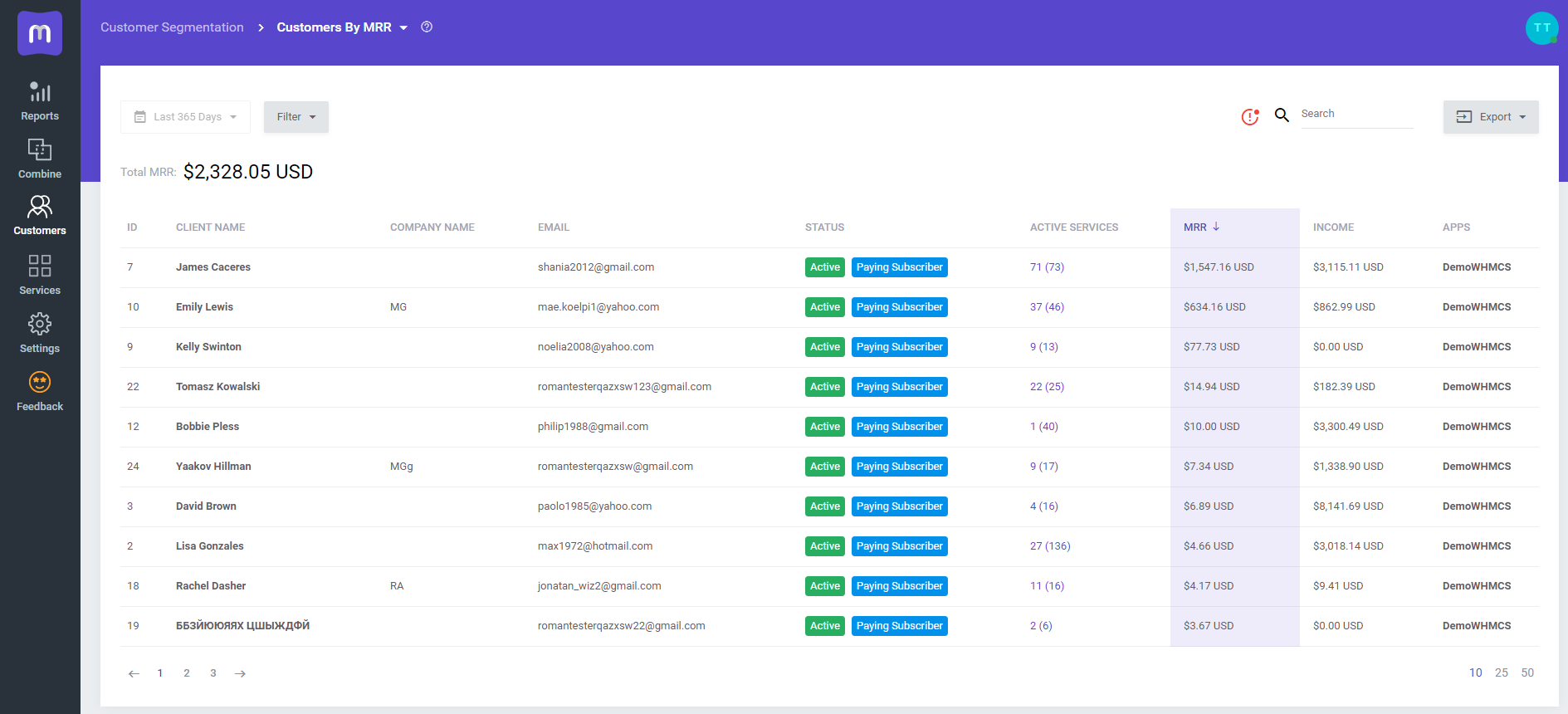 No less elaborate is the second part of our utility – Services Segmentation with an equally impressive set of categorization tools to adequately divide into groups all services available in your system, within the hand-picked time period. We have put at your disposal as many factors as possible to let you generate precisely the results you need to start fully exploiting the potential of your offer. Among them, you can find the renewal date, income, time of placing the order, service status as well as numerous others. To satisfy even the most demanding analytical minds, you will be also allowed to verify all services which remain without any assigned domain, and vice versa – all domains with no specified service.
In case you would like to share your findings with your team so as to polish up your company's strategies, we have secured such possibility for you as well. Feel free to export the results of conducted segmentation into one of the following available formats – CSV, XLS, and PDF, plus specify the exact records you wish the exported file to contain. With all desired data always at your fingertips, you may remain calm about even the tiniest aspect slipping your attention ever again.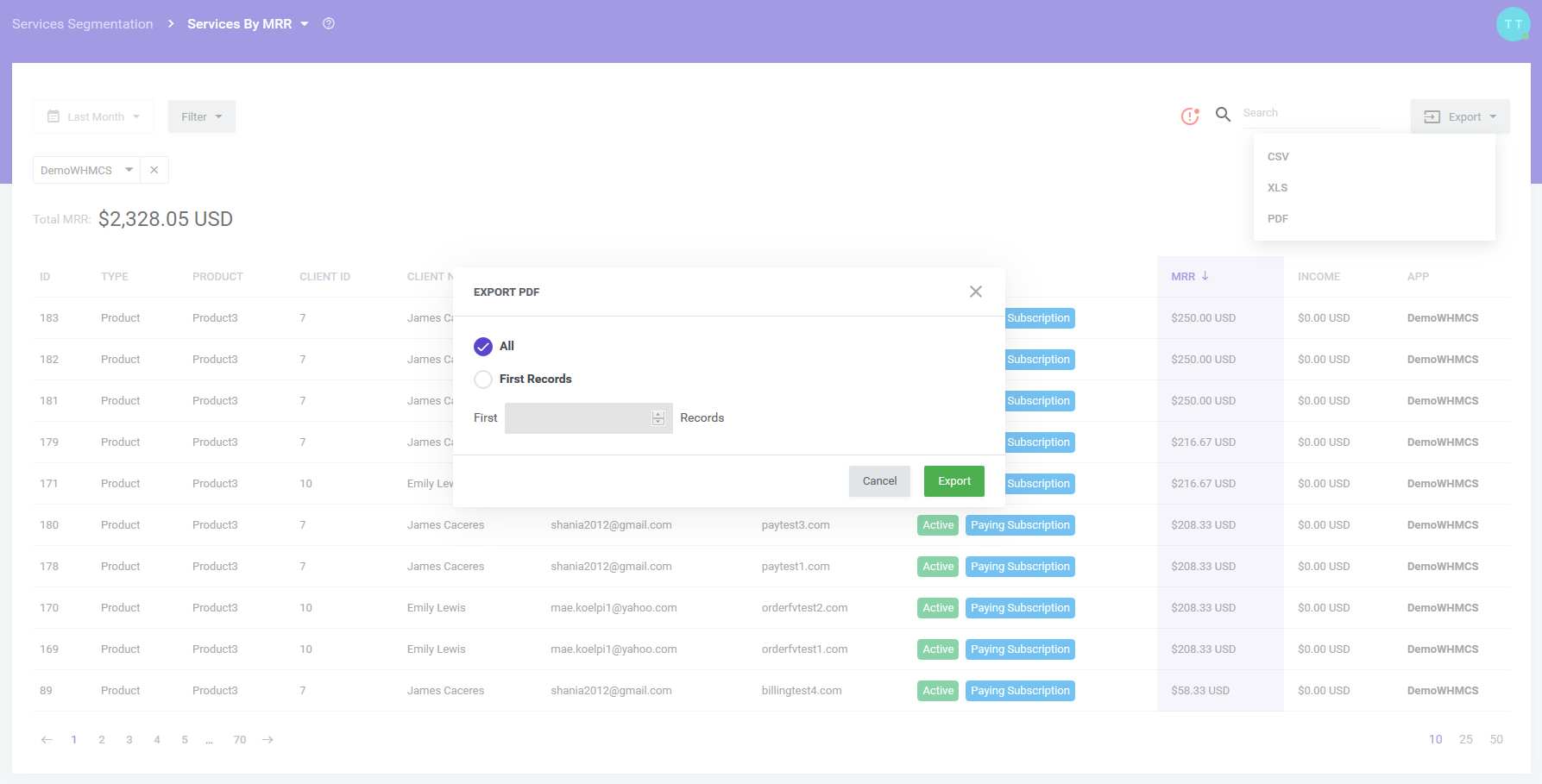 Such significant improvements made within the system require equally major reinforcements of the bridge that connects both sides of this data-driven relationship – MetricsCube Connector For WHMCS. Due to the implementation of the above-mentioned immense functionality, the need arose to put the connector on a par with the application. Therefore, in order to tap into the full potential of our tool, a free upgrade to the newest 2.0 version will be a must for MetricsCube to receive all detailed information from your WHMCS required for successful segmentation. As you will easily notice at the moment of taking the first glance at the revised version, it now presents itself as way more user-friendly and customizable than ever before!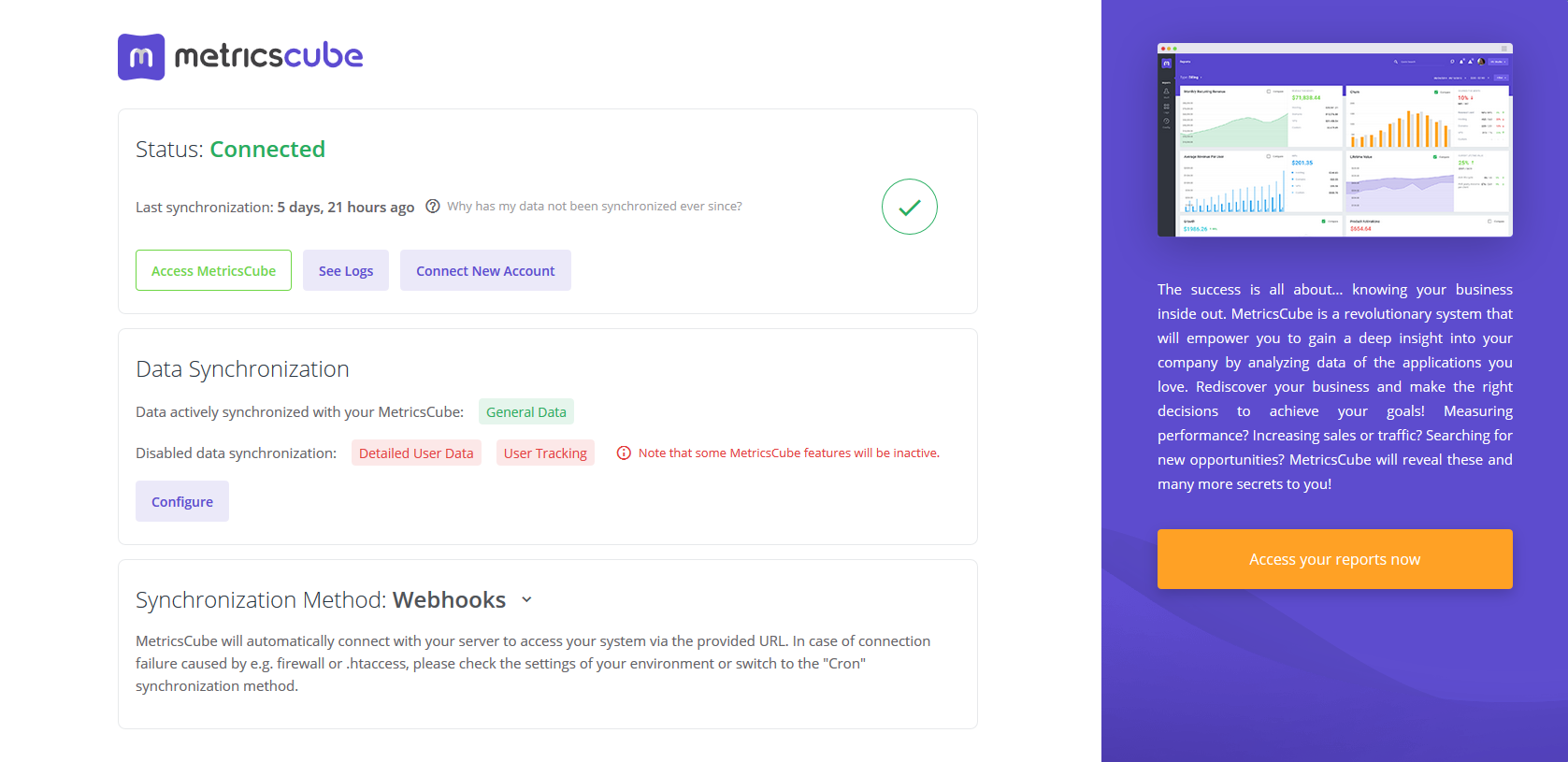 "On-Premises" model is now available!
Remaining true to the pledges made in regard of the scheduled changes and developments comes as a second nature to MetricsCube. Especially when such major novelties as expanding the range of current pricing options are at stake!
During the past few months we received many voices that our current offerings may not fully match your business profile. To come up to the expectations of the most demanding entrepreneurs, we are now announcing the official availability of the on-premises license! MetricsCube neither downloads nor stores any personal data of your clients and is perfectly GDPR compliant, however, to empower you to gain physical access to your data and have direct control over its management and security, all organizations with particularly restrictive IT policies are now allowed to install MetricsCube on their own local servers.
Additionally, the preview of offered plans available on our website has been equipped with a detailed record of all included functionalities – this way, you will be able to quickly compare them without any trouble and find the perfect fit for your business. No need to be worried though, this is as far as our interference reached – all the prices remain unchanged.
Take up the reins!
Since the early days of our existence as a company we have been proud to be helping other ambitious entrepreneurs evaluate how well their business model is working. Find out what we can do for you today, after over a year of constant perfecting our tool and planning ahead with clear objectives in mind. Our comprehensively revised website will be your very first guide in the direct exploration of all MetricsCube components and, shortly after, this role will be best taken over by the completely free 14-day tryout helping you click through our smartened-up tool.