Now that the sophisticated equipment of "Live Dashboard" and "MRR Breakdown" sections has settled well in your routine business monitoring regime, levelling up your data analysis techniques with reports that are not only beautifully designed but also technically buttoned up, the timing seems just right to officially bid welcome to another chapter in MetricsCube's extraordinary growth path. Though the thoroughly refreshed Email Summaries alone can break your old, ineffective patterns, this brief write-up turns the spotlight on a few more functionalities which propel MetricsCube to the status of a must-have accessory of every modern WHMCS business.
Email Summaries with a twist
As soon as we decided to squeeze more potential out of email summaries incorporated into MetricsCube, we knew right away that we couldn't settle for anything less than a total makeover. As a result, the section has had its functional capacities redeveloped from square one, and now covers a set of widgets to let you easily control what kind of data exactly should be delivered to your mailbox. Hand in hand with the scope of your summaries, you can decide how often they will be sent – one each day, once a week, or perhaps every first day of the month? And to make sure that your business data is put in front of the right people, we have introduced the option to add each user individually to the circle of email recipients.
That, however, is just where the good news begin.
A peek into Currency Exchange
To let you drill down even further into the figures behind your monthly recurring revenue, the premium MRR Breakdown section has been equipped with the Currency Exchange field that describes the change in MRR due to exchange rate fluctuations.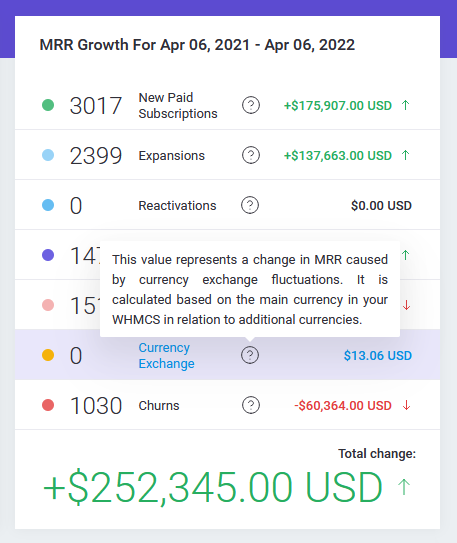 A method of calculation is based on the main currency set in your WHMCS in comparison to any other currencies.
New life breathed into Activity Log
Looking deeply into customer feedback that we receive daily on MetricsCube, the Activity section is often considered of special importance because of the holistic view it provides into what is happening in the company – not only at the present time but also at any other moment. And since this very personal kind of insight is what we rely on most to improve the platform, we didn't hesitate a second to put the section through some additional fine-tuning which quickly translated to a variety of visual and practical improvements.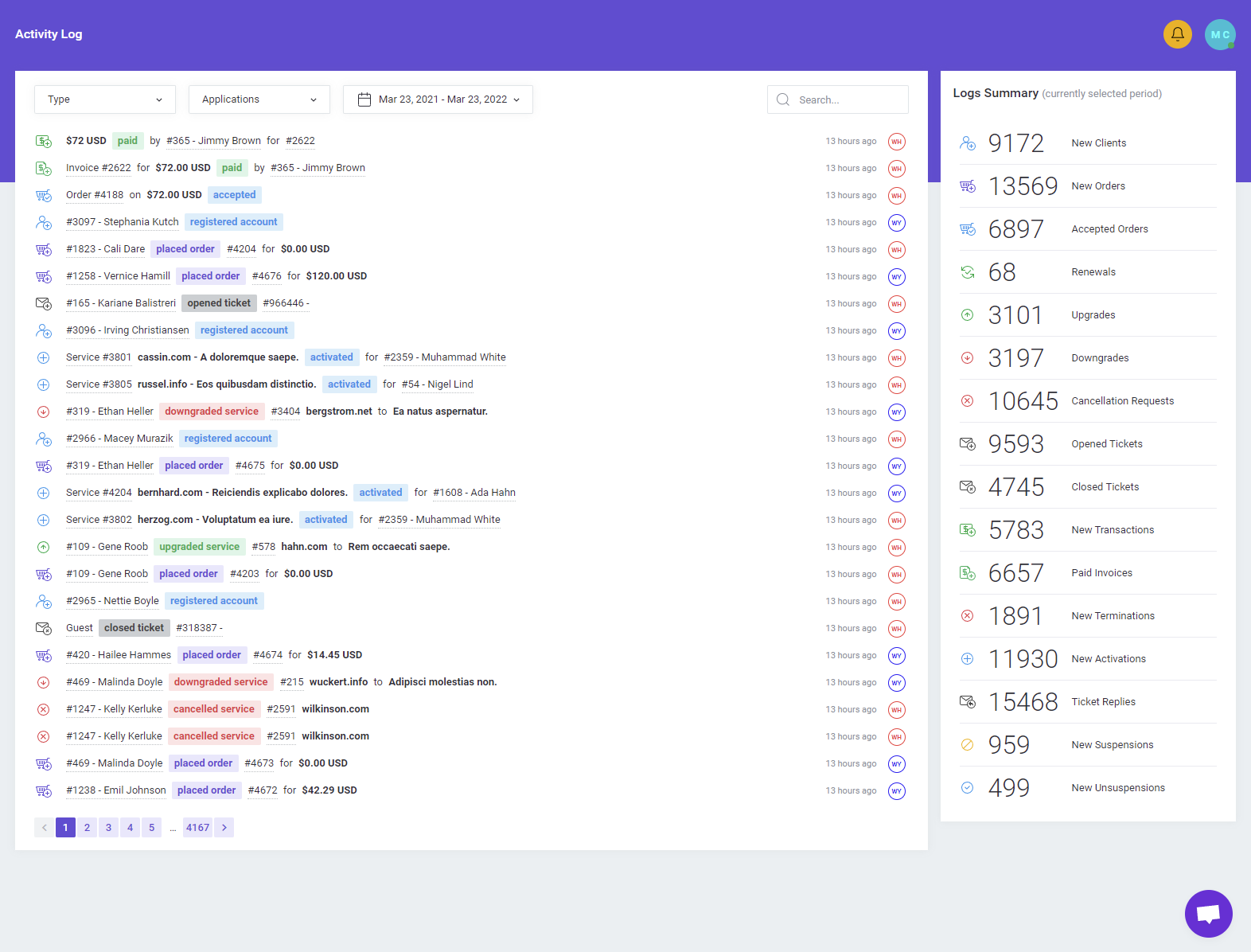 There's more!
As a finishing touch, we have carried out countless other subtle refinements you are sure to feel immediately because of all the extra comfort they bring along, such as:
Smoothed out synchronization process
Plenty of performance boosting enhancements
Grace Period option added for services, domains and addons not to be included in Churn reports for a specified number of days after their due date
Streamlined billing mechanism for multiple applications (their due dates are now readjusted so they can be charged all at once)
Rewritten Reports pages
Improved mechanism for encrypting sensitive data on MetricsCube servers
Do you have a go-to approach to solving problems when they appear out of the blue? You most definitely should, because it's really not that hard to feel struck with complete paralysis if some tricky business decisions need to be made. Thankfully, you have an arsenal of tools that is MetricsCube to help the process go smoother and more efficiently. The more you practice using this new-fashioned platform on a daily basis, the greater results you will get!