How truly effective are you in retaining your customers by offering them excellent support and services? How feasible does your business model seem in the long-term scheme of things? And finally, is your brand reputation truly as optimistic in reality as it is in your mind? Each web hosting business owner would like to know a clear-cut answer to those nagging questions. And everyone can because it is directly projected on different sorts of metrics that propel your business from within.
And guess what – you have now the possibility to get into every nook and cranny of your operations using a set of extra, dead-sharp reports! Have a trip with us through all important features that today's MetricsCube update is ready to equip you with!
Graphs – retention always under your direct control
Retention, our newest brainchild in the field of reports, came in a slightly different form than all other reports available in MetricsCube. While this is by far the most common way retention is presented, we perfectly understand that some of you may have grown attached to the chart mode most of our reports are displayed in. For this purpose we added a supplementary method of previewing this particular type of statistics, and that is the keenly-requested retention graphs. And who doesn't love to be spoilt for choice, right?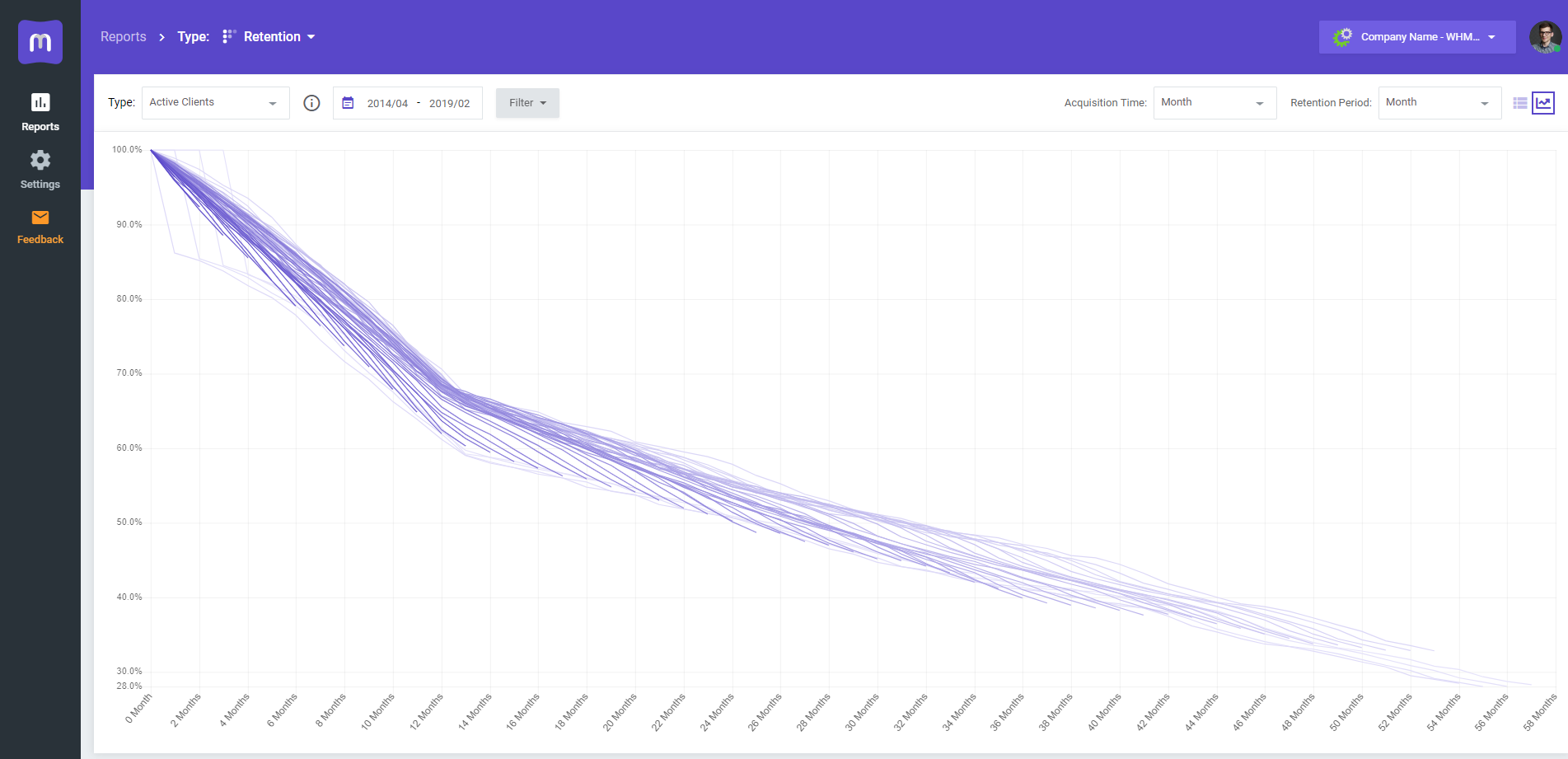 You may now freely switch between those two alternative modes, depending on the current needs, and keep your clients, services, domains as well as addons in an even tighter grip!
A package of several, completely novel reports
Retention is not the only sphere which welcomed some fresh charts on board. As part of this MetricsCube update you will also find a few other reports that will make the supervision over your assets a whole lot easier.
In the "Billing" section:
Transactional NET Revenue – similar to the Transactional Revenue report you already know well, but calculated without gateway fees
Average Revenue Per Paying User (ARPPU) – similar to ARPU, but with additional filter applied (active

and paid

clients)
In the just added "Subscription" section:
Active Subscriptions – the number of active services, domains or addons over time
Active Subscribers – the number of clients with active service, domain or addon over time
Active Paid Subscriptions – the number of active and paid services, domains or addons over time
Active Paid Subscribers – the number of clients with active and paid service, domain or addon over time

Huge makeover of central MetricsCube reports
There is nothing more fundamental than understanding your company's finances inside out, is there? With this thought in mind, almost a quarter of current reports was redesigned from scratch, to now include also the services which had the upgrade or downgrade operations performed on them as well. These reports include:
Monthly Recurring Revenue (MRR)
Average Revenue Per User (ARPU)
Customer Lifetime Value (LTV)
All six Churn reports
Average Revenue Per Service (ARPS)
New Services
Active Services
Cannot see some of the previous reports on your dashboard? No need to be panicking! You know us. If there is anything we will be doing, it is adding more and more reports to MetricsCube, not taking them away. 🙂
Three reports were slightly renamed to better reflect their intended function, without any interference into their calculation. The changes are as follows:
Transactions Value → Transactional Revenue
Revenue → Accrual Revenue
NET Revenue → Accrual NET Revenue
Super-boosted data synchronization
We know how valuable your time is so how about having more of it, without sacrificing anything? It is real because from now on, when connecting your WHMCS with MetricsCube, the synchronization of big amounts of data will take up to as much as 75% less. Shift the focus towards growing your client base and leave all the concerns aside – bigger doesn't have to mean slower any more!
Multi-Currency Conversion Support
Apart from a whole bundle or reports plus sped-up data synchronization, we couldn't forget about adding a touch of billing flexibility to our system too. Briefly speaking, all reports of MetricsCube will now be automatically calculated according to the base WHMCS currency, with the range of currently supported currencies exceeding 200.
Even though MetricsCube has completely outgrown our original expectations in terms of its warm reception and rapid development, we by no means consider it a done product in the sense that it needs no further upgrading. On the contrary – we are constantly seeking fresh, creative solutions to bring into our tool and make your everyday interaction with it an enriching, valuable experience.
Let's not forget about your company for a sec too! Business intelligence is becoming ever more powerful weapon on the web hosting market that needs to be reckoned with, and you may rest assured that the bundle of all-new reports we had the pleasure of delivering today is just a foretaste of what is still yet to come in the following weeks.
It is never too late to sign up and give MetricsCube your first try-out. But be careful – business analysis is definitely addictive!
Have your own vision of what tool MetricsCube can become? We never push away any kind of feedback so go ahead and leave us a comment down below!